Graham Reid | | <1 min read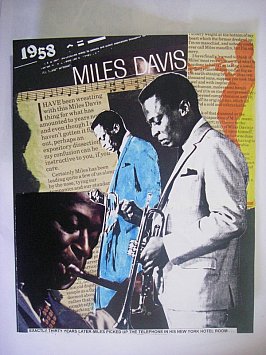 Needless to say there is quite a lot about Miles Davis at Elsewhere, including my 1988 interview with him, hence the tagline at the bottom.
I can't remember exactly what this piece was illustrating but it wasn't a consideration of Sketches of Spian (despite the imagery) because I did another piece for that.
Maybe for something I wrote about the Milestones album given the year at the top? Or something from the late Eighties when some of his albums were disappointing given the reference at the bottom?
The latter seems more likely (and the Siesta album with Marcus Miller did try for some of the Sketches of Spain mood so . . .)
The tear from the magazine isn't me but it did capture something of what I was thinking about Miles at that time.
There's plenty of Miles, some with Elsewhere Art, at Elsewhere starting here.
For other Art by Elsewhere go here.