Graham Reid | | <1 min read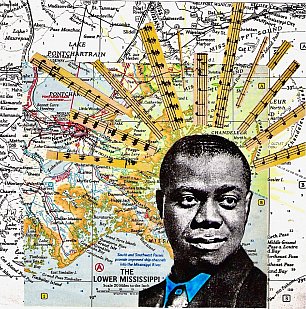 Absolutely obvious I know.
But what else are you going to for the great Louis Armstrong other than cast him as some holy man radiating light out of New Orleans?
This was created to accompany an article on various Dixieland compilations, a genre of jazz I have always had some aversion to because of the cliches of men in bowler hats sitting on the back of a flat bed in some smalltown parade and going through Sweet Georgia Brown or When the Saints one more time.
The collections were actually rather good and expunged much of that cliche.
The article is here.
.
For other Art by Elsewhere go here.