Graham Reid | | 1 min read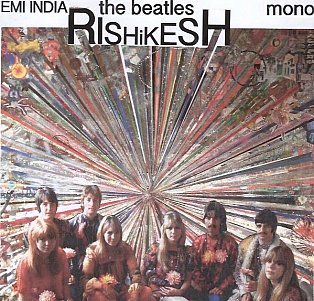 Because there is a finite number of studio recordings by the Beatles, just for my amusement I sometimes make up my own and write about them under the Absurd Elsewhere page.
Given the title of that page and the uttery improbable albums I invent (not all by the Beatles as you may see if you look: Taylor Swift, Lorde and Jimi Hendrix are not immune) it always surprises me how many people take them seriously.
Howls of outrage sometimes when people tell me, for example, that Lennon-McCartney didn't write Paint It Black (one of the many deliberate clangers dropped and designed to alert people to the satirical intention of the piece) . . . and then howls of outrage again when I inform them that it is all a joke.
People hate it when they don't get the joke.
Anyway, why not a whole Beatles album recorded in India?
And my guess is that if it had been (and you will see why it wasn't released in 1968) then of course it would come in a cheaply done cover designed by an Indian who probably had no idea who these people were.
Anyway, all in jest . . . and as you may see from the pieces I write, the clues are dropped quickly and they just keep coming.
By the way, some people laugh like drains and encourage me to do more. Especially when they see how others utterly missed the joke.
The article this one accompanied is here.
Not a bad album incidentally, despite the cheap cover.
.
For other Art by Elsewhere go here.