Graham Reid | | <1 min read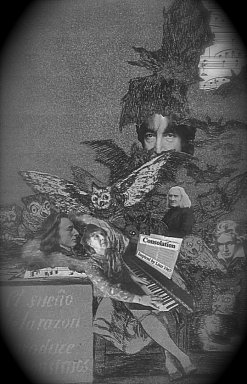 It seems the jury is still out on Rosemary Brown, the woman who said she was channeling the undiscovered works of great classical composers such as Chopin, Debussy, Beethoven and others who would talk to her and guide her hands on the piano.
She would perform these works to some acclaim and a considerable amount of scepticism.
She came from a family of psychics so being in touch with the spirits of the departed came naturally to her.
She was also visited by the spirit of John Lennon and wrote a song that he handed to her. Lennon had clearly lost his touch after dying.
She was a strange one and that is why she appeared in our WE NEED TO TALK ABOUT . . . . pages, which this collage illustrated.
Goya's aquatint The Sleep of Reason Produces Monsters seemed highly apt as a reference point.
Crazy story. Check it out here.
.
For other Art by Elsewhere go here.