Graham Reid | | 2 min read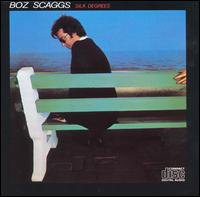 These days singer/songwriter Boz Scaggs is more of a jazzman -- as witnessed by his album Speak Low of 2008. But in the mid Seventies, in those days just before disco started turning into a formula and a cliche, he made some beautifully soulful dance-pop which was not only radio-friendly but was subtle, understated and tasteful.
He'd come a long way from the folk album he recorded in Stockholm in '65 and being in the Steve Miller Band in the late Sixties psychedelic era. His had been a slow, increasingly subtle move to the mainstream, but not sacrificing integrity.
Before Silk Degrees he'd kicked off his solo career with a self-titled album in '69 which was recorded in Muscle Shoals and had Duane Allman on slide -- one of his last studio sessions before the Allman Brothers Band formed.
The follow-up Moments came two years later but saw Scaggs relocate to San Francisco for the sessions and was a bit all over the place: he imitated Neil Young on one track, yet seemed to reference Mose Allison in other places. Not his best moment.
My Time in '72 was recorded in both Muscle Shoals and San Francisco and he took on Allen Toussaint's Freedom for the Stallion (which later became a hit for the disco-era Hues Corporation) and his soulful style was starting to firm up.
Slow Dancer in '74 launched what might be called his classic period: he worked in Hollywood with the former Motown producer Johnny Bristol (and covered a number off his songs as well as another Toussaint track) and worked with great players such as Motown bassist James Jamerson and horn players such as Chuck Findley, jazz saxophonist Ernie Watts and others.
But it was Silk Degrees that tipped him over the top.
Working with great studio musicians such as guiltarists Les Dudeck and Fred Tackett, jazz-horn players Tom Scott, Findley, Jim Horn and Bud Shank (as well players who went on to form Toto later), Scaggs delivered up some of his most fully realised songs and watched as Lido Shuffle, We're All Alone and Lowdown all became hits.
With a smooth jazzy and soulful sound and just enough hints of Philly soul-cum-disco, Silk Degrees topped the charts around the world (#2 in the US) and it sold in excess of three million in the States.
There was also more to the album than the singles and his ballad (Harbour Lights) showed the power of his understatement. And again he touched on Southern soul in his cover of Toussaints' What Do You Want the Girl to Do?
A lot of albums from this period have dated, but Scaggs' writing and singing seem timeless. Silk Degrees still sound terrific with a margarita and a warm breeze.
And at less than $10 at JB Hi-Fi stores (here) it easily qualifies as this week's Bargain Buy.

Scaggs went on to record the equally fine Down Two Then Left which -- despite heavyweight musicians present -- didn't quite do the business, perhaps because it largely dealt with loss of love alongside the crime song Gimme the Goods. But his ballad Then She Walked Away showed he hadn't lost his touch.
Still hasn't -- but while there were a few hits in the Eighties he mostly slid quietly away until the past decade.
But to hear him at his soulful best -- without a hint of cheese -- then Silk Degrees is the album to start with.