Graham Reid | | <1 min read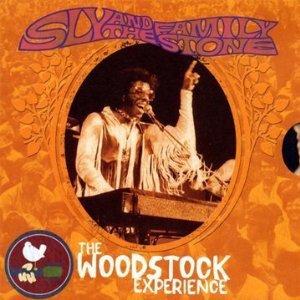 Woodstock in '69 was the making of many artists: Ritchie Havens, the Who, maybe even Sha Na Na . . . and certainly Sly and the Family Stone's whose I Wanna Take You Higher was one of the exciting high-points of the movie, if not the event.
This double disc set -- with a Sly-at-Woodstock wall poster -- has one disc of the whole of their Woodstock set (mixed by Eddie Kramer), but of equal importance is the other disc, their funk-rock-psychedelic soul album Stand! of the same year which featured such material as Don't Call Me Nigger, Whitey ("don't call me whitey, nigger"), Higher, Sing a Simple Song, Everyday People and You Can Make It If You Try.
Sly's band was cross-racial, cross-gender and equally blind to barriers between musical styles and in that they pointed a direction that anyone could follow -- although remarkably few have.
There was also an important socio-political text of tolerance -- and the 13 minute git-down git-wid-it of Sex Machine.

Appropriately released through the Sony Legacy imprint, this is still remarkable music four decades on - and at just $20 at JB Hi-Fi stores here, that's what we call "the bargain buy".