Graham Reid | | 1 min read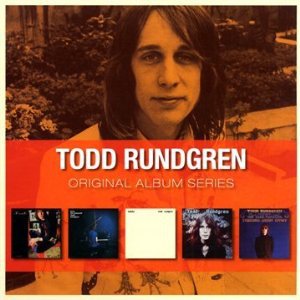 With the ever-evolving Rundgren scheduled to play in New Zealand see interview here) here was a five CD collection of some of his albums from 1970-83 which skip over his double album Something/Anything, the glorious A Wizard/A True Star and the double Todd.
But here are Runt (Rundgren with the Sales brothers who later worked with Bowie); The Ballad of Todd Rundgren (on which he played almost every instrument); Faithful which saw him mix originals with almost letter-perfect covers of material by the Beatles, Hendrix, Dylan, the Beach Boys and Yardbirds; Hermit of Mink Hollow (which included the hit Can We Still Be Friends); and the contractual obligation album The Ever Popular Tortured Artist Effect (which included his version of the Small Faces' Tin Soldier).
Rundgren was astonishingly prolific and diversely talented: he played exceptional guitar (blues, power trio rock, psychedelic, soul-funk) and vocally could shift from blue-eyed soul to throat shredding rocker to balladeer.
He didn't mind a bit of prog-rock in the mix either.

Needless to say, you'd be unwise to go to a gig these days and expect to hear him play any of this music (although he constantly surprises) -- but given these five CDs come in a pack for $20 at JB Hi Fi stores (here) that makes this a genuine Bargain Buy.