Graham Reid | | 1 min read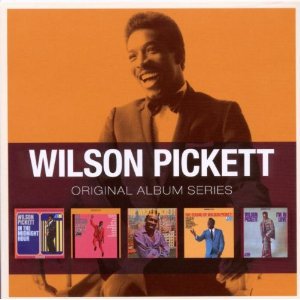 For many people their sole knowledge of Wilson Pickett might be as the guy who did/didn't turn up at the end of The Comittments, the invisible inspiation for that band.
A few might know of his great song Land of 1000 Dances which -- ironicaly, like the Beatles' Twist and Shout -- came right at the end of the so-called dance craze era, or perhaps his Mustang Sally. Or maybe In the Midnight Hour?
But the Wicked Pickett was one of the great soul singers with an ear for the blues (Stagger Lee was in his repertoire) and when he burst out of Stax Studio in Memphis with In th Midnight Hour in '65 he'd already put in a decade of effort.
For the next five years he was pumping out tough albums augmented by great Stax horns (the inspiration for the Committments) and bands which included Duanne Allman, Spooner Oldham and other great session players.
He filled his albums with covers of material by other black (and sometimes white) artists but he always brought his rough-hwen but impassioned style to whatever he was handed. Check his version of Time is on My Side which the Stones covered, or Knock on Wood.
And you can check out a lot of the Wicked Pickett because five of his first albums from his classic hit-making period have been packaged up by Rhino (in replicas of their original covers): In the Midnight Hour, The Exciting Wilson Pickett, The Wicked Pickett, The Sound of Wilson of Wilson Pickett and I'm in Love recorded between '65 and '67.

All the Pickett you need (he continued to record and died in 2006) and at just $20 for the set that count as yet another Bargain Buy from JB Hi-Fi stores here.