Graham Reid | | 1 min read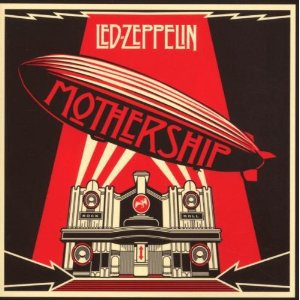 When this double disc of Led Zeppelin arrived in '07 there were the inevitable arguments from fans about what had been unfairly excluded . . . and certainly their Anglofolk inclinations and some of their essential blues (notably Gallows Pole) might have been there.
But . . .
This was always going to err toward the band's classic rock and, as chosen by the three surviving members, these 23 tracks (remastered) undeniably make the case for them as one of the great rock bands of any era.
In the absence of the complete catalogue these would be the tracks which were most identifiably Led Zepp to most, and the sound of their explosive, rolling thunder should belong in any sensible CD collection.
You can hardly argue with seminal songs like Good Times Bad Times, Communication Breakdown, Dazed and Confused (which Page "borrowed" from this guy), Whole Lotta Love, Heartbreaker, Immigrant Song, Black Dog, The Song Remains the Same, No Quarter, Kashmir, Nobody's Fault But Mine . . . oh, and that other one.
They are all here . . . and the 20 song DVD of live showings (from the Royal Albert Hall in '70 to Knebworth in '79) effectively covers their career and fills a few of the CD gaps (I Can't Quit You, White Summer, Moby Dick, The Ocean, In My Time of Dying among them).
(There is a lot more about Led Zepp, including interviews with former members, starting here.)
But when some kid asks, "What did you do in the rock wars?" you can slip them this.

Two discs, a booklet and a chock full, two hour Dolby 5.1 DVD -- and just $12.99 at JB Hi-Fi stores here.
Easy. This week's Elsewhere recommended Bargain Buy.