Graham Reid | | 1 min read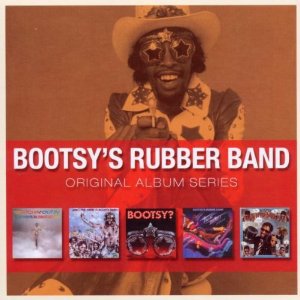 With a more wobbly funk bass than his former boss James Brown, some psychedelic humour, Brown's horn players, Bernie Worrell on keyboards and George Clinton producing, it was almost impossible for Bootsy Collins to miss the huge target of the dancefloor from the mid Seventies.
And two of the albums in this five CD set (in replicas of the original covers) dominated the US soul charts. Ahh... The Name is Bootsy Baby (1977) and Bootsy? Player of the Year ('78) should both be in any sensible party-down collection.
But interest also alights on the two follow ups, This Boot is Made For Fonk-N and Ultra Wave which are noticeably less obvious in their booty-shakin' intentions and aim for a slightly different, rather more out there and sometimes oddly experimental arena.
Tracks like Oh Boy Gorl on Fonk-N and F-Encounter on Ultra Wave sound beamed in from a strange planet where Prince might have been brought up. Chug-A-Lug (on Fonk-N) and Mug Push (on Ultra Wave) are what you get when you put Bootsy, LSD and Sesame Street into a blender which has been plugged in to the funk lobe of Frank Zappa's brain.
Certainly these final two albums in this pack aren't a patch on those earlier classics, but you can't deny Bootsy and his crew were having fun. They even appropriate disco, took back a bit of Johnny Guitar Watson (who'd eased his way into funk by this time) and went for a soppy'n'sloppy ballad when it suited their stoner mood.

So funk and more funk, and then strangeness which slightly outreached itself?
Yep, that's about the shape of it -- but with five albums for $20 from JB Hi-Fi stores (here) you'd have to admit it is still a Bargain Buy.