Graham Reid | | <1 min read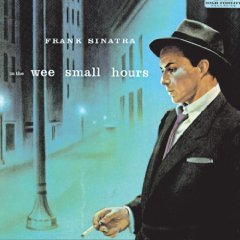 As with jazz artists such as Miles Davis, John Coltrane and Thelonious Monk who had complex careers, so too Frank Sinatra poses a problem for beginners.
Where to start?
Let's make it simple.
You start right here with this album from 1955.
In the Wee Small Hours -- only Sinatra's second album, he'd been recording for years but the LP format had only just arrived -- has it all: great songs, beautiful arrangements by Nelson Riddle, Sinatra's elegant phrasing . . .
It is also a sort of concept album where all the songs are about that loner who has been unlucky in love and is contemplating that in the wee small hours.
What more can we say?
Well, it has long been an Essential Elsewhere album so you can go here and get the full backstory (and the Tom Waits reference).

It is also just $12.99 at JB Hi-Fi stores here so that makes it the happy conjunction of essential . . . and cheap.
And that of course makes it this week's Bargain Buy.