Graham Reid | | 1 min read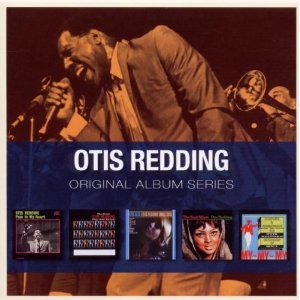 It seems remarkable that for such an influential figure in soul and popular music, Otis Redding's recording career was actually a few months short of just four years, the time between his 1964 debut album Pain in My Heart and his death in December '67.
His biggest selling album Dock of the Bay was released a year after his plane crashed and he hadn't really crossed over to white audiences in any meaningful way until his appearance at the Monterey Pop Festival, six months before his death.
Of course there were always many white artists (and audiences) who knew of him and the young Rolling Stones, for example, covered Pain in My Heart and That's How Strong My Love is after hearing his versions on his albums Pain in My Heart and The Great Otis Redding Sings Soul Ballads.
Redding was one of the great interpreters of a lyric and if you scan his first five albums -- packaged up here -- he is pulling from the songbooks of Rufus Thomas, Sam Cooke, Smokey Robinson, William Bell, Solomon Burke, the Stones (Satisfaction), Lennon-McCartney (Daytripper) and Little Richard as well as covering Louie Louie, and co-writing with Steve Cropper . . .
And he was also weighing in with guitar, drums and keyboards when required.
His album Otis Blue of late '65 -- which includes Respect, A Change is Gonna Come, I've Been Loving You Too Long and You Don't Miss Your Water among his singular interpretations -- was the album which announced him to a wider world in sessions with Booker T and the MGs, Isaac Hayes and the Memphis Horns. He sounds pained from the first notes of Ole Man Trouble, but assertive on Respect.
By current standards of recording where artists go years between albums, Otis Redding hardly seemed to be around long enough to make much impact. But in those few years he released these five albums (and Kings and Queens with Carl Thomas).
But as I noted here, Otis' star went into decline after that first rush of posthumus acclaim so that by the Nineties and even more recently, he was hardly being mentioned at all.
That seems to have been changing in more recent times as classic soul is back on the wider agenda.
If however he has managed to slip past you, or you simply want to check out his impressive catalogue, then this five pack collection in replica sleeves is your easy entry point.

At $20 for five CDs --Pain in My Heart, Sings Soul Ballads, Otis Blue, The Soul Album and Dictionary of Soul -- from JB Hi-Fi stores here, this is a lot of genius for little outlay.
Which is why this is Elsewhere's recommended Bargain Buy.