Graham Reid | | <1 min read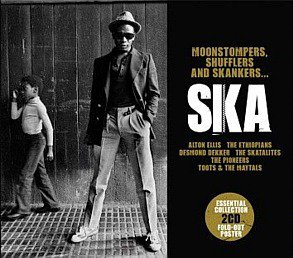 With the Newmatics having reformed to support the Specials and another version of the Beat coming, it's as if it is 1982 alll over again and ska is our soundtrack.
Of course a couple of generations missed that wave, and that was a revival of something which had happened a decade or more previous when the kicking ska beat out of Jamaica started making in-roads into popular culture.
Bands like the Pioneers, Toots and the Maytals, the Skatalites, Tommy McCook and the Supersonics, the Paragons and others -- alongside Desmond Dekker, Alton Ellis, Ken Boothe, Derrick Morgan and John Holt -- defined the sound of skanking ska which became party music for many.
And, oddly enough, the favoured sound of British skinheads.

This double disc collects 40 classic ska tracks to get your feet and spirit moving.
And at just $15 from JB Hi-Fi stores here, that makes this colourful collection this week's Bargain Buy.