Graham Reid | | 2 min read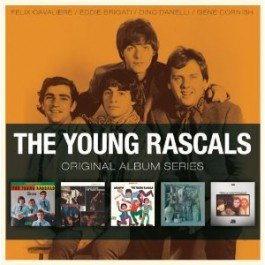 If New Jersey's Young Rascals had done nothing more than release their exceptional Good Lovin' -- one of the most urgent, addictive and thrilling singles of 1966 -- they would still be imprinted in the memory of anyone who was there are the time.
And that would have been good enough to have them held in great esteem by members of Tony Soprano's crew and hailed by uber-fans Springsteen, Steven Van Zandt and others who followed in their wake.
But the Young Rascals did more than capture teenage hormones in a two and half minute song, they also distilled the more mellow essence of the following year in the laidback Groovin' ("on a Sunday afternoon") and captured the more political vibe of '68 with People Got To Be Free.
Three king hits -- and they had the more sensitive How Can I Be Sure in there too.
Like most bands of their era, their early albums were often padded out with covers of material that went down well live, or were popular at the time.
On their self-titled debut of '66 they ploughed through Larry Williams' Slow Down (which really hits its stride about halfway through), Mustang Sally (slower and darker) and In the Midnight Hour as well as Dylan's Like a Rolling Stone which is more convincing than you might think.
But it was their cover of the little known Good Lovin' -- with Felix Cavaliere's incendiary organ part and raw vocals, chiming guitar chords, as well as the false stop -- where they really came into their own.
Their follow-up naturally played off that single a bit with material which emphasised the dancefloor (the standards Mickey's Monkey and Too Many Fish in the Sea, Cavaliere's Come On Up, the retro Nineteen Fifty-Six and Land of 1000 Dances). Not their best album -- they were, like Paul Revere and so many others at the time, a singles band -- but it was noticeable that Cavaliere was emerging as writer of some distinction (Lonely Too Long).
For Groovin' -- their third album in fewer than 18 months -- Cavaliere and Eddie Brigati wrote all the songs and they were more soulful and, in places, horn-driven. They also went very trippy (the droning Find Somebody, Sueno), and offered a convincing take on Place in the Sun (which Stevie Wonder made his own).
What their career to this point showed was how they mastered close harmonies as much as dancefloor pleasers. However they were also growing up so teen pop was no longer of interest.
Their next album Once Upon a Dream was credited to "the Rascals" and found them dabbling in jazz psychedelia, with some spoken word passages (which never age well). Musically much more sophisticated than their sound of just two years previous, it's an album which has numerous high points but sounds very much of its era in its sonic effects and tripped out vibe. There's a sitar on Sattva and the album has an "intro" and a "finale".
That kind of ambition spilled over into their double album, the loosely conceptual and politicised Freedom Suite (bringing in a little country which was popular at the time). The second record in the set included a side-long jam (Cute) and a 13 minute drum solo track (Boom), both of which -- if not exactly popular at the time -- seemed almost mandatory for many bands.

It signalled the end for a band which had started off as a rocking bar band with feisty single-length excitement and fell prey to the excesses and expectations of their era.
But theirs was a fascinating journey and these five albums are pulled together in the Original Album Series which, at just $20 at JB Hi-Fi stores here, makes this collection our Bargain Buy.