Graham Reid | | 1 min read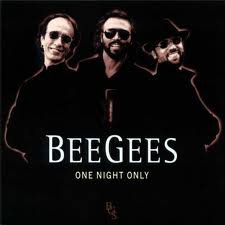 Although older brother Barry has long been the one with health issues (crippling arthritis for over a decade), it seems strange and sad that his three brothers -- first Andy, then Maurice and more recently Robin -- should have departed before him.
Only a fool would deny the songwriting genius of the three older brothers who not only wrote dozens of hits for themselves, but gifted songs to others from as far back as Marbles' Only One Woman in '68 through Streisand, Kenny Rogers and Dolly Parton's Islands in the Stream, Immortality by Celine Dion . . .
A Bee Gees greatest hits collection which included their own and the covers would be a very substantial box set indeed.
You need only listen to their song Alone for an example of clever craftsmanship. It is like three elements seamlessly woven together, any one of which would have made a lesser songwriter very smug. Alone gets welded onto their intro You Should be Dancing here.
Recorded in Las Vegas in '97 and initially released the following year (there was a tie-in DVD of the same title of the same concert in its entirety), this found the brothers covering songs from their whole career, right back to Lonely Days, Massachusettes, To Love Somebody, New York Mining Disaster and Words through their disco-era classics (You Should Be Dancing, Staying Alive etc) with Islands in the Stream, a tribute to brother Andy on Don't Throw It All Away and guest Celine Dion on Immortaity.
Frankie Valli's disembodied vocals are beamed in for Grease.
Any way you cut it, the Gibb brothers have been the world's most succesful songwriting partnership in that their hits spanned decades, unlike so many of those other great songwriters who emerged at the same time (after Lennon-McCartney, Bacharach-David, Goffin-King, Jagger-Richards etc).

Every home should have a decent Bee Gees collection if only for the sheer pleasure it brings (not to mention it being a masterclass for young pretenders) and this one -- at just $10 at JB Hi-Fi stores (here) -- seems like a useful starting point.
Yes, it is live and so the vocals aren't as pristine as on the studio recordings, but at that price and given the chock-fil o' hits nature of this makes One Night Only this week's Bargain Buy.
There is much on the the Bees Gees at Elsewhere, including interviews, starting here.