Graham Reid | | 1 min read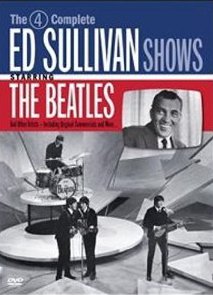 By now most people would concede February 9, 1964 was a turning point in global culture. That was the night the Beatles played on the Ed Sullivan Show and 73 million Americans (out of a population of 192 million, somewhere between a third and half of the nation) tuned in.
It is said there was no reported juvenile crime in New York City that night. True or not, the story is emblematic of a cultural shift. Kids had their own joyous soundtrack and the upbeat, happy sound of the Beatles pulled a nation out of its grief over the killing of their president just 10 weeks previous.
This four-DVD collection is essential information (and entertainment) for anyone looking at the American cultural context in which the Beatles found themselves. The discs cover their appearances on that night, the two on subsequent weeks and another in September '65 when they were riding the wave with I Feel Fine, I'm Down, Act Naturally, Ticket to Ride, Yesterday and Help!
But context is everything and the importance of these discs is they deliver the complete shows, so you can see who the Beatles were up against and alongside: a card trick guy, Frank Gorshin (The Riddler in the Batman television series) doing impersonations, people singing show tunes and doing comic turns, the cast of Oliver! (featuring a young Davy Jones, later to be a Beatles surrogate in the Monkees), boxers Sonny Liston and Joe Louis coming out to applause but for not much more, Cab Calloway beamed in from an earlier era, comedian Dave Barry . . .
No competition at all.
And the Beatles dragged a few other British acts along in their wake. Morecambe and Wise do a skit on the third show and Cilla Black -- already on her way to being a popular rather than pop entertainer - is a guest on the final one with September in the Rain and Goin' Out of My Head.

This was history as seen on -- and made by -- television and even now the Beatles infectious enthusiasm (and visible weariness in the final programme) is a wonder to behold.
And at just $12.99 at JB Hi-Fi stores here, that makes this our Bargain Buy for this week.
(You can read about the Beatles in New Zealand here, and about the Beatles in America on DVD here).