Graham Reid | | 1 min read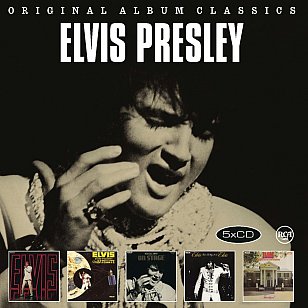 The Elvis collections in this series hits a peak with these five discs, these capture Elvis live and the set starts with the famous '68 Comeback television special. It reinvigorated his career and interest in him again after years of mundane movies in Hollywood while the Beatles, the British Invasion, Bob Dylan, American rock bands and the psychedelic movement marginalised him.
Also here is the equally well received On Stage recorded in Las Vegas in February '70 and the excellent That's The Way It Is from later that year, the soundtrack to one of the best rock docos ever made.
Then there is the Aloha From Hawaii television broadcast from early '73 and the rather lesser Recorded Live on Stage in Memphis from the following year where he sang material as diverse as Flip Flop Fly and How Great Thou Art alongside his hits and others like Blueberry Hill from the first era of rock'n'roll.
Although he did become a bloated impersonation of himself in his last years we need to remind ourselves that period was a very short one in the long arc of his performing life, and Presley was one helluva performer as these albums testify.

If you only buy two of the Presley collections in the Original Classic Albums series (this being the fifth out of the gate) get that one of the early years mentioned here and this one.
It is an impressive body of work and at just $20 for five CDs at JB Hi-Fi stores here, that makes this our recommended Bargain Buy.
There is a deep well of Elvis Presley music, articles and reviews at Elsewhere starting here. And impersonators too.