Graham Reid | | 3 min read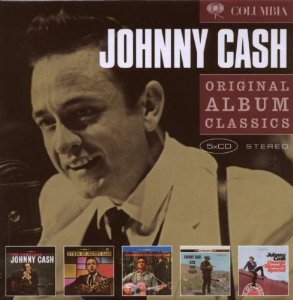 In about six months Johnny Cash will have been dead a decade, and we might expect some tributes, album reissues and an assessment of his legacy.
My bet is most attention will fall on his later years when he was that man-mountain of American music - an icon more than an artist -- but would hope some spotlight might fall on his years in the mid-to-late Sixties when he was crossing over between mainstream, country, folk and rock audiences by having people like Bob Dylan on his acclaimed television show.
Less attention might fall on the singer-songwriter on these five discs, those years after he left Sun Records and hitched up with Columbia who gave him free reign to record country, hymns and what we now might acknowledge as early Americana.
But for a modern audience they might be a little hard going because they are spare recordings and despite the presence of guitarists Luther Perkins and Don Helms, pianist Marvin Hughes and drummers on the first album The Fabulous Johnny Cash (1959) what you perhaps only hear is Cash's signature chick-a-chicka train-track guitar and his vocals. Except when the Jordannaires drop by.
These are narrative songs (Frankie's Man Johnny, The Troubadour, Don't Take Your Guns To Town) alongside songs of faith (Shepherd of My Heart). And again, for the modern audience, his voice has little of that gravitas it developed by the late Sixties.
But here is where his story really started after he'd established himself with I Walk the Line, Hey Porter and Folsom Prison Blues on Sun.
The Hymns album from the same year speaks for itself (it was his first album of religious songs) and veers between sentiment, speak-sing songs (Are All the Children In), standards (Swing Low Sweet Chariot) and some originals. This was a courageous album in many ways. Columbia knew it was in his plan but it hardly fitted their agenda. However you can imagine these songs played well in concert, especially in the South.
Songs of the Soil was his third album in '59 -- his productivity perhaps a reflection of how much speed he was taking -- and included his famous narrative Five Feet High and Rising.
But aside from a few songs these aren't as you might expect -- songs about rural life -- but is a broody collection of death ballads. We need to remind ourselves however that at this time many families experienced death in a way we don't today. As mentioned here, child mortality was high so many people would have buried babies, and family members were laid out in the front room.
That said, this is a strong collection and you can hear his voice starting to deepen and imbue the words (mostly his own) with irony, despair and hope as much as sentimentality. Some great songs here, among them The Great Speckled Bird which, despite its title, is about the return of Jesus to collect the faithful, and Old Apache Squaw in which he began his sympathetic association with Native Americans.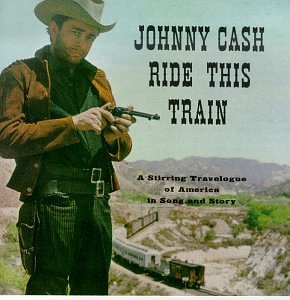 The following year he offered the terrific Ride This Train which isn't actually train songs but a concept album about the grandeur of America and its people.
It opens with him talking about traveling around (with the backdrop of a train chugging) and notes that before the settlers arrived this land was populated by Native Americans and full of music. As he (as the universal settler) looks out the window of the train at the where he once lives he also sees the heart and muscle of the land, "things you don't read about in books".
Thereafter follow songs about coal miners, lumberjacks, train-jumpers and itinerants, one being the cowboy-era killer John Wesley Harding.
The refrain "ride this train" opens every song as an invitation into another world/story/song. When anyone asks what the first concept album was remember this predated the Pretty Things' FS Sorrow by eight years.
The chronology takes a leap of many years and albums -- regrettably skipping Bitter Tears of '64 about Native Americans -- to Orange Blossom Special of '65 which was a major hit for him, and included three Dylan songs (It Ain't Me Babe in a duet with June Carter, Don't Think Twice and Mama, You've Been on Mind) alongside traditional songs and gospel. And Wildwood Flower.
Aside from the Hymns album -- and that will be down to taste -- these are fine early albums (all with bonus tracks) by Johnny Cash and, come September, you'd hope might enjoy a little time in that spotlight when people are hailing this patriarch of American music, but rather forgetting that the old giant was was once a man in his 20s and 30s.

This collection is also just $20 at JB Hi-Fi stores here.
So that's an easy recommendation for this week's Bargain Buy.
There is a lot more about Johnny Cash at Elsewhere starting here, including a truly horrible song by him.