Graham Reid | | 1 min read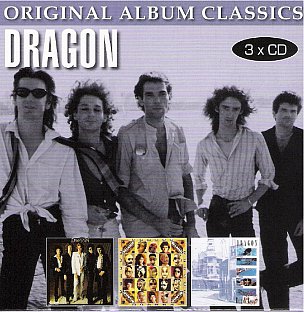 Although they never made a truly satisfying album -- let alone a classic -- Dragon certainly delivered one very good and largely forgotten one: O Zambezi of 1978.
The previous album Running Free had spun off the single April Sun in Cuba and had been a major step away from their former incarnation as a kind of prog-rock outfit. The tougher, more taut, disciplined pop-rock sound started on Running Free came to fruition with O Zambezi which delivered the single Are You Old Enough and strong songs such as Still in Love With You, the weary ballad Midnight Groovies and Burn Down the Bridges.
They turned their ear to New Wave with material like Politics (which hasn't aged well) and the nuggety rock of Reach the Top.
As the centrepiece of this three CD set, O Zambezi seems even more pivotal than many might remember it.
If Running Free had them finding their feet and spirit in the studio, O Zambezi was the album where things really started to click. But outside the studio the band was falling apart after relentless touring, drugs and different ambitions. Singer Marc Hunter left shortly after for a solo career and the band subsequently split, then reformed, split again . . . (a process that went on for years).
The third disc here is the much later Bondi Road from '89, after the death of composer/keyboard player Paul Hewson, the return of Marc Hunter and with guitar gunslinger Tommy Emmanuel contributing. This was a smoother running band and had a hit with Young Years (written by Sharon O'Neill and her partner Alan Mansfield who was then the band's keyboard player).

Pragmatically it makes sense to include this album here given how successful it was.
But this set offers a scattershot view of Dragon's career -- although it does let O Zambezi to get re-presented. And at just $15 at JB Hi-Fi stores here, that makes this our Bargain Buy for this week.