Graham Reid | | 2 min read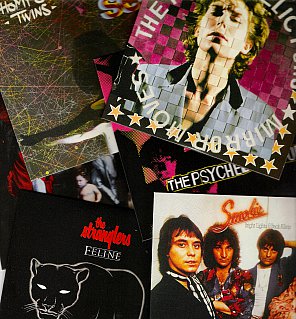 Even when it was exciting and happening all around you didn't have to be too bright to observe that punk was mostly just pop wound up tight and with more furious lyrics, that New Wave was just pop in different clothes and silly caps, that UK post-punk was just pop tossed in the blender with some Doors-like grandeur, that stadium rock was just power pop with . . .
Yes, pop is ubiquitous but each new generation puts its own twist on it.
The budget price Sony "Original Album Classics" series (five CDs for $20 at JB Hi-Fi store here) certainly has pop-with-a-twist options, so here's a quick sampling
The Psychedelic Furs: The Psychedelic Furs; Talk Talk Talk; Forever Now; Mirror Moves; Midnight to Midnight
Out of Britain and alongside Wah! Heat and Teardrop Explodes who also pulled together widescreen darkness and that Doors-like art-school gravitas, the Furs started out as a menacingly brilliant band shot through with cynicism and Velvet Underground tropes (their excellent debut album, check the posted track) but very quickly found their feet (and a bigger audience) with more sharply honed pop material (Pretty in Pink was on Talk Talk Talk, Love My Way on Forever Now) but the final two albums here are lesser entries in their discography. Some interesting extra tracks here too in the way of demos, b-sides and live material.
If somehow you missed that debut it's time to turn up the volume and turn down the lights.
The Stranglers: Feline; Aural Scuplture; Dreamtime; All Live and All of the Night; 10.
There's doubtless a collection of five of their first six albums in the Sony series which predates this set which starts with Feline from '83 when they might have announced, "Hope you like our new direction". These Eighties albums are some remove from their first disciplined but arty punk/post-punk so expect more acoustic guitars, touches of electronica, pedal steel . . . Perhaps not the Stranglers you really want.
Thompson Twins: Set; Quick Step and Side Kick; Into the Gap; Here's to Future Days; Close to the Bone
Neatly skipping their debut album which didn't feature singer Allanah Currie, this set starts with the smoothly polished Set which came just before they started their relentless rise to pop stardom (achieved by Into the Gap which includes the hits Hold Me Now and Doctor Doctor). This was classy pop in new clothes . . . and yes, sometimes silly hats.
Smokey/Smokie: Pass It Around; Changing All the Time; Midnight Cafe; Bright Lights and Back Alleys; The Montreux Album
Okay, this band is what some folks might describe as their "guilty pleasure". Britain's Smokie had the benefit of assistance from the hit-writing team of Chinn-Chapman (which puts them on the same spectrum as Joan Jett and Racey, although Smokie got more of the Racey end of things) and they were responsible for such hits as the non-album single Living Next Door to Alice as well as album tracks like A Day at the Mother-in-Law's, Back to Bradford . . .

They did have some rather effortless lightweight power pop but mostly Smokey (the later Smokie variant spelling to avoid confusion with Smokey Robinson, as if you would be) were pitched somewhere between early Beatles/top 20 and a pub singalong,
Smokey's albums are those which you really should feel guilty about if you take pleasure in them.
So there you have, all kinds of pop going cheap.