Graham Reid | | 2 min read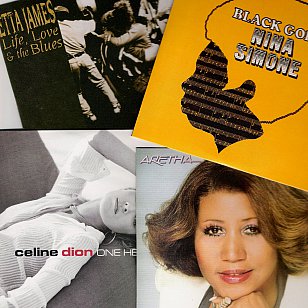 This week's Bargain Buy scoops up some of the most interesting and occasionally difficult divas whose careers have been uneven.
And these are uneven collections of the late Etta James, Nina Simone, Aretha Franklin and the much maligned Celine Dion.
The Etta James collection is perhaps the strongest overall, largely because she could bring an earthiness to the most mundane of lyrics. The collection picks her up in the late Nineties and early 2000's with Life, Love and the Blues (classic and belters), Heart of a Woman (turning down the volume, not so good), Matriarch of the Blues (mostly back on track with blues and rock), Blue Gardenia (jazz standards are rather overlooked) and Let's Roll (which grabbed a blues Grammy in '03).
Nina Simone's catalogue is vast and as difficult as the lady herself was: some prefer her more unadorned early years, others err towards her more upbeat soul/gospel style, yet again there's a case for her more jazz influenced sound. Sometimes all these would all be on the same album.
This collection though picks up her excellent late Sixties period and into the Seventies on the albums 'Nuff Said! (mostly live and recorded days after tyhe murder of MLK, incvludes the hit Ain't Got No, I Got LIfe), NIna Simone and PIano! , To Love Somebody, Black Gold and It is Finished.
There is political directness and love songs, black politics and heartbreaking ballads, and Simone's extraordinary drawing from wells as diverse as Hoyt Axton's The Pusher to standards like I Get Along Without You Very Well. Excellent starting point of journey into soul (and blues and gospel and jazz and funk . . .)
Anyone will tell you Aretha Franklin's greatest period was the the late Sixties but ironically her biggest seling period came in the mid Eighties when she eased towards high-energy synth-rock and delivered the Who's Zoomin' Who album (which included Freeway of Love and Sisters Are Doin' It For Themselves)
The Aretha set starts with her self-titled album from 1980 (it's okay), then Who's Zoomin' Who?, What You See is What You Sweat (about as good as its title), A Rose is Still a Rose (where she worked with Lauryn Hill and hip-hop/R&B producers), and So Damn Happy which took her into the new millennium.
Very uneven and perhaps not the best place to start on the Queen of Soul. This is better.
And the Celine Dion collection is the albums Unison, Celine Dion, The Colour of My Love, D-Eux and One Heart whch effectively chart her from 1990 to 2003 and a slaes graph which starts in the low million-plus, through the 20 million-plus Colour of My Love and a dip down to paltry five milion for One Heart.

That's a lot of sales and this an awful lot of Celine Dion . . . but as with all these sets, it is just $20 at JB Hi-Fi stores here for five albums so it's either a cheap way to fill a gap in your collection . . . or to find out what al the fuss was about if you missed it.