Graham Reid | | 1 min read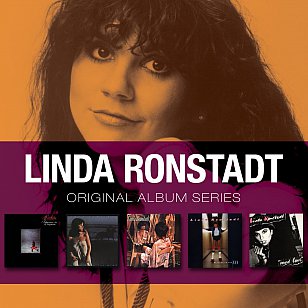 With the recent sad announcement that Linda Ronstadt will sing no more because of the debilitating effects of Parkinson Disease, it is timely to turn the clock back to when she was a superstar (among stiff competition) out of Los Angeles in the Seventies and cracking multi-platinum selling albums.
This five-CD collection starts after her cornerstone breakthrough album Heart Like Wheel of '74, but Prisoner in Disguise here is its chart-topping equal on which she sang songs by Lowell George (Roll Um Easy), Dolly Parton (I Will Always Love You which Whitney picked up subsequently), Neil Young (Love is a Rose), Smokey Robinson (Tracks of My Tears) and others.
The album confirmed what a superb interpreter of a song she was (the equal of Emmyou Harris who sang harmonies on one track) . . . and she followed it with the Grammy-winning chart-busting Hasten Down the Wind which included songs by Willie Nelson (Crazy), Warren Zevon (the title track), Buddy Holly (That'll Be The Day) and three by up-and-coming Karla Bonoff.
For Simple Dreams (again a number one in the US) she once more dipped into the catalogue of Zevon (Carmelita, Poor Poor Pitiful Me) and Holly (It's So Easy) as well as the Stones (Tumblin' Dice) and Roy Orbison (Blue Bayou).
If the final two albums in the set -- Living in the USA (her famously on rollerblades on the cover) and Mad Love -- don't match the heights of the first three, it hardly maters. They still sold by the truckload and Ronstadt's voice was as strong and as pure as ever. It is the choice of material being called into question.

Only an accountant with a lot of time at a calculator could tell you how many copies of these albums Ronstadt sold at the time (and subsequently) when she was the darling of Rolling Stone magazine . . . but during this fertile period it was always about quality and not quantity.
And at just $20 from JB Hi-Fi stores here, this package of crisply produced albums (by Peter Asher) serves to remind what a singular singer she was.