Graham Reid | | 1 min read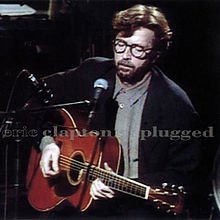 In late 1989, Eric Clapton released one of the most satisfying albums of his solo career to that point.
Under the self-effacing title Journeyman, he delivered an album of blues-rock with a pop twist which made good on the promise of some rather more patchy previous albums.
Regrettably the single Pretending wasn't one of the finer moments, but it did manage to draw attention to the album . . . which received excellent critical comment and didn't sell too badly at all.
Not bad anyway for a mid-career guy who'd released about 10 other solo albums before it.
But Clapton's career -- saleswise and critically -- really took off a little over two years later with his Unplugged session for MTV in which he delivered an acoustic version of Layla and the moving Tears in Heaven, written about the death of his son the previous year.
Although some wrote off Clapton's earlier Wonderful Tonight as a piece of sentimental nonsense, it was harder to argue against Tears in Heaven on similar grounds, even though both possessed the same kind of emotional simplicity and directness.
Tears in Heaven was a song and sentiment which connected with a massive audience and the album Unplugged sold in excess of 14 milion . . . and picked up six Grammys.
This repackaged CD/DVD version is a major expansion of the original album. It includes an extra disc of six rehearsal takes (two of My Father' Eyes) and the stand-alone DVD of the show has an extra hour of previously unseen footage of the rehearsals and backstage material.

And at just $25 from JB Hi-Fi stores here that makes this cornerstone Clapton album this week's Bargain Buy.
And while you are in the store, pick up Journeyman.