Graham Reid | | 1 min read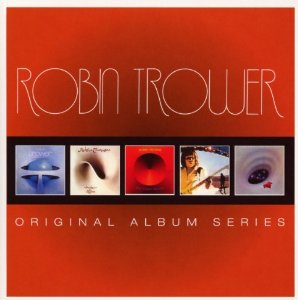 Funny how quickly some people can get written out of rock history.
British guitarist Robin Trower once commanded considerable column inches in rock magazines and encyclopedias of the Seventies and Eighties, but by the Nineties he wasn't even appearing in most.
Yet, especially in the Seventies, people would seriously discuss him as having inherited Hendrix's mantle, and albums like Twice Removed From Yesterday (in '73) and Bridge of Sighs ('74) were on many discerning play-loud turntables.
He'd come into hard rock through the usual route of r'n'b in the Sixties (he'd been in bands called the Paramount and their offshoot the Jam) before playing on albums by former Paramount mates in their new group Procol Harum, although he didn't actually play on their big hit Whiter Shade of Pale.
After five albums with them he formed a power band Jude in '71 with singer Frankie Miller, former Jethro Tull drummer Clive Bunker and bassist Jim Dewar.
Over time they morphed into the Robin Trower Band and then with various changing line-ups albums simply appeared under his own name as he explored slower, more bluesy Hendrix-edged styles in a power trio.
Those two previously mentioned albums did well for him in the States (especially the latter) and his home country was rather slower to catch on, although For the Earth Below ('75) was a big seller on both sides of the Atlantic.
There was a live album recorded in Stockholm (they didn't know it was being recorded he said later) and then the equally good Long Misty Days ('76) before punk arrived and largely put paid to guitar heroes of the Trower kind.
He subsequently worked with Cream bassist/singer Jack Bruce, had an on-again off-again relationship with Procol Harum, produced a few Bryan Ferry albums, kept recording (20th Century Blues in '94 went somewhat overlooked) and . . .
And the real oil though is on those first four studio albums and the live set, all of which are in this tidy little package where you can hear his black-soul and blues spirit coupled with power rock.
These days it's probably hard to get a conversation going about Robin Trower let alone one of those arguments about whether he was the equal of Jeff Beck, Eric Clapton and so on.

But if the idea of power trio rock is something that makes you want to kiss the sky then this package really comes highly recommended.
Not the least because it is just $20 at JB Hi-Fi stores here.
A blues-rock Bargain Buy.