Graham Reid | | 1 min read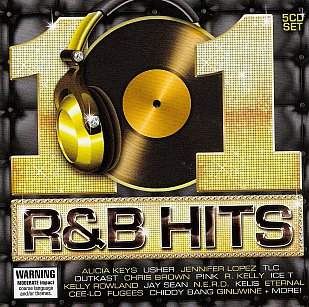 Anyone old enough -- or educated enough -- to know when r'n'b was shorthand for "rhythm and blues" of the Big Joe Turner kind (pre rock'n'roll black music) was no doubt baffled when the abbreviation was appropriated and adapted for . . .
Well, whatever it has become.
In the hands of many male artists, if their video clips are to be believed, r&b now stands for rhythm'n'booty.
And many of the female artists strut that same barely-dresed catwalk where "flaunt-it" is the password to success, money, expensive cars and alcohol, and the world is a never-ending pool party.
Nothing wrong with that aspirational stuff really . . . until someone gets hurt and then there is an equally over-exaggerated and crassly sentimental outpouring of grief.
Before it's back to business as usual.
Fortunately this whopping five-CD set errs towards the partytime, and of course stripped of the eye-engaging footage you get to appreciate some of the real beat-driven, lyrical artistry on display.
A partial list of the r&b royalty on display here runs from Jennifer Lopez, Ciara, Faith Evans, TLC and Pink through Justin Timberlake, Fugees, NERD, Naughty By Nature and Kelis to some older school inclusions (Arrested Development, Gangstarr, Maxi Priest with Shaggy, NWA, Cypress Hill and Paula Abdul).
Yes, Chris Brown, Nas, A Tribe Called Quest and Beverley Knight are also here alongside Outkast, John Legend, Jessica Mauboy with Flo Rida, DJ Jazzy Jeff and the Fresh Prince, Alicia Keys and R. Kelly (fortunately not with that gowawful I Believe I Can Fly nonsense).
And Stan Walker.
For a full list of the artists and their songs go here.

It's a massive cross-section of the broad church of r&b and at just $25 at JB Hi-Fi stores here this is certainly a Bargain Buy.
An excellent sampler which showcases just how smart some in this genre are, and how cleverly post-modern in its appropriations it can be (check the sample track by Lil' Romeo).
And, of course, how sex addicted.