Graham Reid | | 1 min read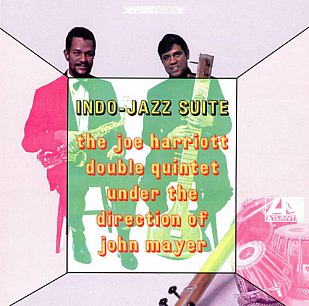 Long before there was the new John Mayer, there was the violinist/composer John Mayer from India whose name is on the cover of this album from '66 when the great and often overlooked Jamaican-born British saxophonist Joe Harriott linked up with him for this, the first of three such albums, to attempt a fusion of jazz and Indian music.
There was a lot of Indian music in the air at the time -- largely due to the Beatles and specifically George Harrison -- but the connection in the jazz world went back further to John Coltrane.
Superficially the two music would seem to have something in common -- exploration and improvisation -- but pulling that off is harder than it seems.
With twin quintets of Indian players and Harriott's group (with trumpeter Kenny Wheeler), they here essayed four pieces by Mayer, two of them ragas, the first two more favouring the jaz blues'n'swing end of the spectrum.
Although not a lost classic -- but Harriott's career in avant-garde jazz before this album, and this fusion area, is well worth investigating -- this music is certainly rich and rewarding.

And at the ridicously low price of $10 at JB HiFi stores here, this is undeniably a bargain . . . even if the liner notes are all in Japanese.
The two Indo-Jazz Fusion albums by Harriott/Mayer which followed this are highly recommended also, once you've got the taste.