Graham Reid | | 1 min read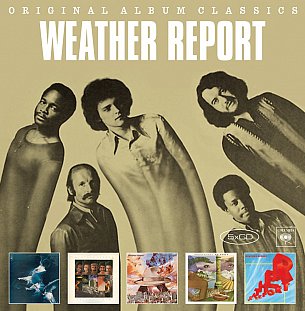 Although there is another set of Weather Report albums in this Original Album Classics series which is better (it includes I Sing the Body Electric, Sweetnighter and Mysterious Traveller), the five albums here kick in with their self-titled debut of '71 and include Tale Spinnin', Heavy Weather and (the lesser) Mr Gone which mop up some pretty substantial material from their innovative jazz-cum-classical and rock fusion of the Seventies.
The band revolved on the axis of keyboard player Joe Zawinul and saxophonist Wayne Shorter and included at various times extraordinary players like bassists Miroslav Vitous, Alphonso Johnson and Jaco Pastorius, percussion player Dom Um Romao, and drummers Tony Williams and Omar Hakim.
The debut here -- innovative but unsatisfyingly inchoate in places -- is the least of this collection and things are vastly improved by Tale Spinnin' in '74 by which time they had established a clearer vision through I Sing and Mysterious Traveller.
The hallmark of these albums - aside from the occasional classic tune like Birdland on Heavy Weather -- is just how out-there they were prepared to get while referring to avant-classical, early bebop, Latin styles, tone poems and even the suite (the 10 minute NYC on the self-titled album from '82 which is the very good final disc in this set).
Few bands then or now would attempt such daring blends of elelctronics and acoustic instruments either, and even when they failed to reach the heights their best work illustrated, there was still the thrill of the attempt.

Jazz aficionados (and even those coming to this music from rock) should certainly have that other collection, but this one throws up just as many surprises if not quite the same number of genuine classic albums.
Even so, at just $20 at JB HiFi stores here for five albums, that has got to be a bargain buy.