Graham Reid | | 1 min read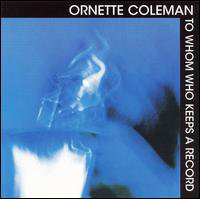 There are many obscure or out-of-print albums in Ornette Coleman's vast catalogue but this counts as one of the least familiar, even to Coleman collectors.
Unless you ponied up the cash for the '93 six-CD box set Beauty is a Rare Thing; The Complete Atlantic Recordings or have old vinyl chances are you've never seen or heard of most of this music, sessions from '60 when Coleman was especially prolific.
He recorded two albums worth of material in July of that year but the pieces on this Japan-only release (which didn't appear until '75) didn't have titles until they were sanctioned for release. When they did they were sequenced to read as a sentence; Music Always. Brings Goodness. To Us. All. PS. Unless One Has. Some Other. Motive For Its Use.
The band on the session included players from classic Coleman line-ups: Don Cherry (pocket trumpet), Charlie Haden (bass) and drummers Ed Blackwell or Billy Higgins.
The recording engineer, for train-spotters, was Bones Howe.
From what we understand, a few of the pieces had been played at the Five Spot the previous December, others were spontaneous improvisations in the studio . . . but the high standard is extraordinary. At the time Coleman was punching out scene-shifting albums like Change of the Century, This is Our Music and his challenging classic Free Jazz.

So here is rare Coleman from a key period and -- somewhat unbelievably -- it is a Japanese import (liner notes in Japanese) which is just $10 at JB HiFi stores here.
Not just a bargain buy, but a rather unbelievably one which is less than half what you pay if you can find it in on-line stores.