Graham Reid | | 1 min read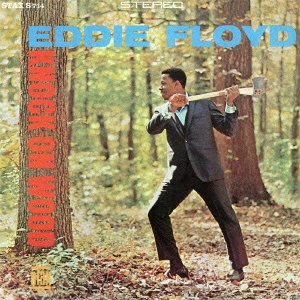 One of the classsic Stax songs from the mid-Sixties, the title track here was among singer Eddie Floyd's best known songs and down the decades has had numerous covers (Otis Redding, Aretha Franklin, David Bowie and Amii Stewart among the most notable).
Co-written with Steve Cropper at the Lorraine Motel where the Stax label would often put up its out-of-town guests, Floyd saying in Robert Gordon's excellent Respect Yourself; Stax Records and the Soul Explosion "we were trying to write a track for Otis Redding . . . it's storming, there's lightning . . . Steve's strumming and I had an idea for a line: knock on wood. Steve had the idea about the rabbit foot for good luck and stepping over those cracks in the sidewalk, black cats, all that . . ."
They cut the track in a couple of hours the following morning with Stax studio players as a demo for Redding, but because it didn't sound appropriate for him Stax released the demo . . . and it topped the r'n'b charts and went top 40 on the pop charts.
But there was more to Floyd than this hit, and the evidence is on this album of the same name, especially where he explores the deeper and more hurting side of his style (I Stand Accused, If You Gotta Make a Fool of Somebody, Warm and Tender Love) and in fact his upbeat numbers like Tommy Tucker's High Heel Sneakers seem rather tame.

But Floyd -- who ran a parallel career as a songwriter, which is why he was signed to Stax -- is one of the most important artists of his era and this Japanese import album, just $10 from JB HiFi stores here, is a fine and accessible example of his style.