Graham Reid | | 1 min read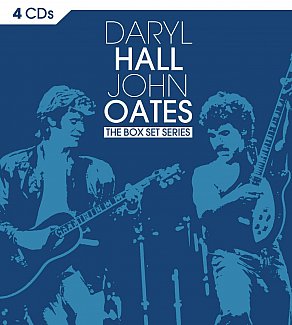 When people asked me what I thought about Hall and Oates coming to New Zealand in 2012 I didn't know what to say.
I missed their career mostly and when I did finally tune in, it was well after their heyday. And I came from an odd angle, having heard Hall on the '79 Exposure album with Robert Fripp I finally decided to check them out beyond the blue-eyed soul I'd heard sometimes on radio.
At some point I probably thought that if Ahmet Ertgun and producer Arif Mardin of Atlantic though they were good enough I suppose I should too.
I was vindicated in my belated interest when this year they were inducted into the Rock and Roll Hall of Fame. (Joke! No, they were, I mean me being vindicated is the joke.)
This four CD set is too much Hall and Oates for me and to be honest it doesn't really kick in until after the first disc -- even though that one has Rich Girl on it.
But after that the beats toughen a little, the soul gets more blue-eyed and persuasive and even though there are those annoying Eighties sax parts scattered throughout (and Eighties production of course) this is a very impressive collection of crafted pop'n'soul.

It's still never going to my thing but if it was ever yours (and with summer hopefully around the corner) then you could hardly go past this which pulls from a cross-section of singles and album tracks up to '91.
And at just $13 for 44 songs -- 14 of them US top 10 hits and six of them number ones -- then this really is a Bargain Buy from JB Hi-Fi stores here.