Graham Reid | | 1 min read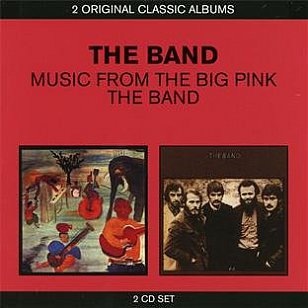 With the next installment of Bob Dylan's Bootleg Series in November being a six CD set of the original and famously bootlegged "basement tapes" recorded in '67, and an all-star line-up (Costello, Jim James, Marcus Mumford, T Bone Burnett and others) recording some lost Dylan lyrics from around the same fruitful period, it might be time to do some homework in preparation.
For those who don't know the story, after his motorcycle acident in '66 Dylan holed up with some fellow musicians (who would subsequently become The Band) in upstate New York for casual but enormously productive sessions. They played old country and blues songs, new material by Dylan (some of which would end up in on Band or Dylan albums) and had a good time while reconnecting with American roots music.
Following these informal sessions The Band stepped out with their own album Music From Big Pink (named for the house they wrote in at Woodstock although the album was recorded in New York and LA studios) and -- at the height of the hippie era -- it changed the way many musicians in particular thought about where music was going at that time.
The Americana mood and music was some distance from the predominant psychedelic rock of the era and their self-titled album which followed it up confirmed their reputation as retro-fiited innovators (if that is such a description).
Across these two albums were scattered great songs like Tears of Rage (written by Dylan with The Band's Richard Manuel), The Weight, Dylan's I Shall be Released and This Wheel's on Fire (the later co-written with The Band's Rick Danko) and a series of great songs by Robbie Robertson: The Night They Drove Old Dixie Down, Up on Cripple Creek and King Harvest Has Surely Come.
Americana as we know it began here.

These two albums are cornerstones in contemporary music and are currently a steal at just $10 for both in this double disc package at JB Hi-Fi stores here.
Your homework assignment has never been more interesting or enjoyable.