Graham Reid | | 1 min read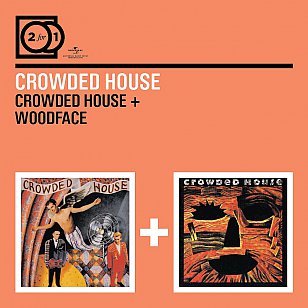 Here's one of the budget price gap-fillers for your collection, the Crowded House debut album from '86 and Woodface from five years later when Tim Finn briefly joined brother Neil in his band.
That first remains one of the most impressive pop-rock powerpop debuts by any artist and contains the sublime hit Don't Dream It's Over alongside favourites such as Something So Strong, World Where You Live and Now We're Getting Somewhere.
The standout however is perhaps Hole in the River which was never released as a single and is one of those songs of enormous emotional depth . . . as well as sometimes brushing up into a searing psyched-out rocker on stage.
Woodface is best described as courageous in that it opens with a swipe at American consumerism on Chocolate Cake (and that was never going to play well with radio programmers in the US) but it's also chock full -- if we might get punny -- of other Finn brothers co-writes like the terrific and evergreen songs Weather With You, It's Only Natural and Four Seasons in One Day.
There's also Neil's lovely Fall At Your Feet and Paul Hesters' Italian Plastic.

Two damn fine Crowded House albums which you should already have . . . but if you don't then here's the great two-fer deal.
Both of these are just $10 at JB Hi-Fi stores here. So that's a Bargain Buy however you cut it.