Graham Reid | | 1 min read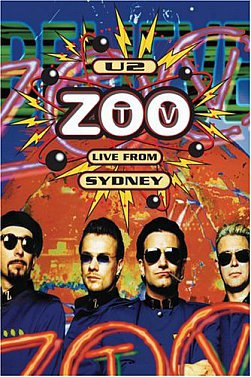 Stadium shows like the recent Rolling Stones event at Auckland's Mt Smart Stadium have become familiar enough for their massive side screens, great sound and integrated lighting effects (not to mention fireworks).
They are entertainment spectacles but in many ways -- because the music and the lights have to be so synchronised -- that they don't really offer a frisson of excitement at the unexpected.
But U2 -- who had the money to lose at the time and a lot to prove -- briefly changed the way a stadium show in the late 20th century could be by using the mass media as a tool against itself.
You could analyse the post-modern aspects endlessly (as I perhaps did here!) but there was no denying -- even if you didn't much care for this band, as I didn't until that moment -- that here was a stadium-sized show that did more than just entertain . . . it questioned the nature of entertainment spectacles themselves.
And by extension it questioned what they were doing.
Propaganda, rock videos, live links, subliminal messages, empty aphorisms . . . They were all there in the mix, and the soundtrack was bruising, rock-electronica.
For my money U2 would never be as good, as courageous or as self-critical again.

This is one of the essential rock-era DVDs and at just $27 from JB HiFi stores here, this is a cheap introduction into a show that pointed a way forward, albeit briefly.
Their money ran out unfortunately, and then so did their musical ideas.
But for this one moment in time in '93 . . .