Graham Reid | | 1 min read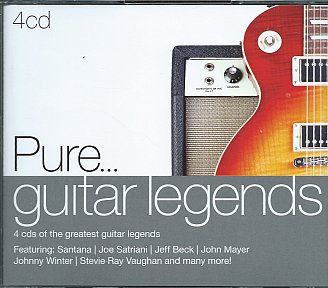 It's not because I was born in Scotland that I like a bargain, it just that . . . I like a bargain, as I think most people do.
So when I see four CD set -- like this one -- at a ridiculously low price I am immediately attracted and start scanning the track listing to see if it is worth even the paltry sum they are asking.
Well, across these 68 songs there are certainly choices most of us wouldn't have made (if you want one Boston song Don't Look Back might not be the first to come to mind).
And it is quite a mixed bag if it is "guitar legends" you are looking for: Jeff Healey, the Fabulous Thunderbids, Joe Satriani, Jeff Beck and Santana would be a "Yes", but Newton Faulkner, Soul Asylum, Warrant and Hooters? Maybe not so much.
But forget that "guitar legends" tag and this is a pretty enjoyable collection with some genuine cornerstone songs like Stevie Ray Vaughan's version of Little Wing, Santana's Samba Par Ti, Taj Mahal's Statesboro Blues, Jeff Buckley's Grace and so on.
It's more like a stadium rock-meets-leftfield tracklisting actually.
Kinda weird but welcome to hear Lou Reed's Vicous followed by the Pavlov's Dog lost classic Julia and then into John McLaughlin (New York on My Mind) and Al Di Meola (God Bird Change).
So if you are happy to have Bob Dylan (Buckets of Rain), the Byrds (Turn Turn Turn), Albert Hammond (I'm a Train), the Youngbloods (Darkness Darkness) and Poco's Pickin' Up the Pieces come at you back-to-back then this is for you.

I shoved it in the car and it was like an unpredictable radio station where the programmer had either weird taste of limited access to bigger hits . . . and it worked for me.
And for just $10 at JB HiFi stores (here), you have to admit it is bargain.
It appealed to the Scot in me, let's just say that.