Graham Reid | | 2 min read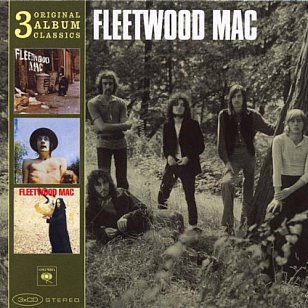 This struck me as funny: shortly after posting a front page mention of "the most famous line-up" of Fleetwood Mac playing New Zealand dates I got a sharp e-mail from a fellow who said, "Fleetwood Mac were famous before those Americans joined".
Leaving aside the difference between "most famous" and "famous" -- and I maintain the line-up with "the Americans" which sold about 50 million albums in a decade from about '75 is pretty famous indeed -- there was also the issue of "famous" itself.
Yep, Fleetwood Mac in another form did exist before their global conquest, but whether that British blues band was "famous" or just "well-known" is the sticking point.
My correspondent -- whom I take to be British because of that "Americans" comment -- was perhaps a fan of the original band back in the Sixties and so for him, and anyone wanting to find out about the pre-famous well-known British FMac, we draw attention to this three CD collection.
It consists of their first two albums (the self-titled debut and Mr Wonderful of '68) and the '69 collection Pious Bird of Good Omen which included their hit single Albatross.
At this time the band really were an implosion of British blues talent with guitarist Peter Green, drummer Mick Fleetwood and bassist John McVie coming over from John Mayall's Blues Breakers, and genius guitarist Jeremy Spencer also in the ranks.
That debut is pure Brit-blues with their versions of Robert Johnson's Hellhound on my Trail (as a piano blues featuring Spenser on keys), Elmore James' Shake Your Money Maker and Howlin' Wolf's No Place to Go alongside genre originals by Spencer and Green. It was rightly acclaimed at the time although hasn't aged quite as well as you might have wished.
Mr Wonderful didn't enjoy such critical and popular acclaim on its release as it largely reiterated the points made better on that debut and Spenser's slide playing seemed to get a bit of overkill. Interestingly though some piano parts were played by Christine Perfect (of Chicken Shack) who would later become Mrs McVie and join the band. There was also a horn section and Duster Bennett (later to join Mayall's Blues Breakers) played harmonica on some tracks.
Pious Bird was an odd album which seemed to slip out as the group's third album but was in fact a cobbled together colection of UK singles and B-sides, and a couple of songs recorded with Clarksdale-born blues pianist/singer Eddie Boyd.
Among the highpoints of course are the dreamy and timeless Albatross and Black Magic Woman (both penned by Peter Green).
So here is a pre-famous Fleetwood Mac that was well-known . . . but not the "most famous" line-up.

The enticement here -- aside from some terrific blues playing by Green and Spenser (both of whom would become seriously disturbed individuals and leave the band) is that these three albums come in at a very reasnable $13 at JB Hi-Fi stores here.
And that's why the set is this week's Bargain Buy.