Graham Reid | | 1 min read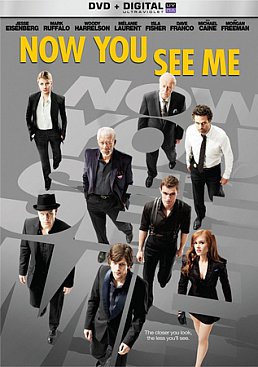 Although far too clever and CGI-heavy for its own good and, despite the star firepower -- of among others Mark Ruffalo, Morgan Freeman, Michael Caine sleepwalking again, Woody Harrelson smug'n'mugging it up and Isla Fisher -- this criminal mastermind-cum-magic and illusion flick will certainly pull you in.
Because most of the time you'll be saying, "But why . . . ?" or "So how come . . . ?"
Full of the magic premise of distraction and diversion, Now You See Me brings together four illusionists, magicians and mesmerists seemingly lead by the smart arse jabbermouth of Jesse Eisenberg, but who are really in the pay of some anonymous puppet master who has them pull off a couple of major heists-cum-revelations.
It's all very clever but with a cop and an Interpol agent from France on their case (and yep, the tough US cop and glamorous gal from Paris do fall for each other) there is much cat'n'mouse to be had.
Not a great heist film but certainly a very amusing diversion and all polished to a CGI and spfx sheen by director Louis Leterrier. And most of the time you'll be wondering where the money went, and why did they give it away, or did they?
So if this isn't exactly a first class night in around the roaring and warming television screen then why mention it here?

Because that's the distraction . . . this is just one among many A- to B+ grade DVDs now at JB HiFi as part of a Buy 2 Get a 3rd Free deal.
If you are looking for some very different options to fill out that package you might want to pick out Starred Up (a brutal prison drama) and the comedy St Vincent (Bill Murray in grumpy boozy mode, Melissa McCarthy and Naomi Watts).