Graham Reid | | 1 min read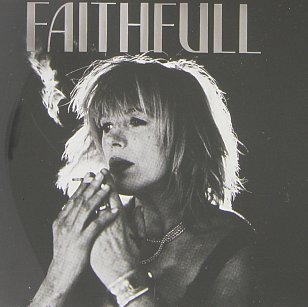 Elsewhere will concede immediately that we have always been mostly unpersuaded by Marianne Faithfull's much acclaimed genius. Her self-belief is admirable but often the evidence on many albums has come up well short of convincing.
She is very good on self-mythologising and placing herself in great company, but over the long haul many of her albums seem exactly that, a very long haul.
That said, we will also admit there have been songs of exceptional depth, quality and resonance . . . and many of the early ones appear on this cheap compilation which pulls three of its 11 songs from her remarkable Broken English album (the early vinyl versions in New Zealand coming with out the potty-mouthed but astonishing Why D'Ya Do It which appears here).
And also her original '64 As Tears Go By (out of place here and which she grew into later in life).
There are quite a number of Faithfull compilations -- and the excellent live/hits Blazing Away -- but what commends this one is (aside from the great songs) that it is one of the three-for-$20 deals at JB HiFi stores here.

While you are there you can ameliorate Faithfull's dark vibe with collections by Lionel Ritchie, Little River Band or Rod Stewart.
Unless you want to stay in the serious zone, then go for the Band, Nirvana, 2Pac, Ice Cube . . .