Graham Reid | | 1 min read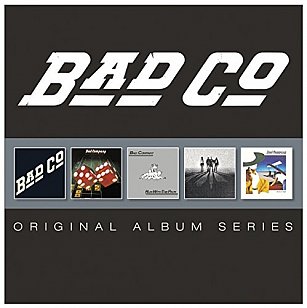 The dinner table conversation turned to Bad Company because one of the guests announced he was going to see them in the States and, despite some agists jokes, we agreed that they were a damn fine rock band and Paul Rodgers a superb and largely underrated singer.
He'd been in Free with BC drummer Simon Kirke and for their first incarnation – there have been many and they are still active today – they pulled in Mott the Hoople guitarist Mick Ralphs and bassist Boz Burrell from King Crimson.
That was the line-up on their self-titled debut from '74 whch went top five in Britain and to number one in the US.
Listened to at this distance it's sometimes difficult to maintain the "hard rock" description because many of the songs are mid-tempo and something like Seagull is a ballad which aims for poetry but descends into bathos. It did however contain Can't Get Enough and the song Bad Company which began to define their territory.
Their second album Straight Shooter also came with ballads but one of them, punched in with power chords at the right moment, became one of their most memorable: Feel Like Makin' Love.
And so their early career progressed with album tracks ending up on hard rock and classic hits radio stations to this day.
Signed to Led Zeppelin's Swan Song label and managed by their Peter Grant, BC seemed to have the world at their feet after that impressive debut . . . but critics were always divided over them (as hard rock got harder, BC did seemed somewhat lightweight against rowdier rivals) and even now the jury is still out on their contribution.
No doubts over Rodgers' vocals however although he is more expressive than raunchy . . . and the chance to reasess their early career until '79s Desolation Angels comes with this five CD set.

Given that it is just $15 at JB Hi-Fi stores here, it's a chance to reconsider Bad Company.
Not in the expectation they are a hard rock band but more as a classy journeyman outfit with plenty of solid songs scattered about.