Graham Reid | | <1 min read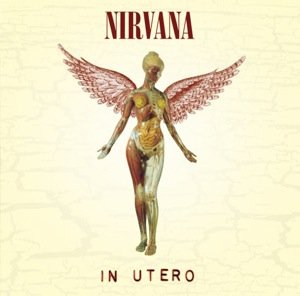 Has it been almost 25 years since this, Nirvana's final studio In Utero? After the unexpected success of Nevermind, Kurt Cobain wanted to re-establish their outsider and gritty position and so this was originally recorded with producer Steve Albini.
After that the story gets a little more complex (Scott Litt coming in to make some sonic changes) but from the cover inward this was a different Nirvana from the mega and more mainstream sound they had suddenly become known for.
Even now In Utero is a less easy proposition but it also had great songs and although it met with a mixed reception got extra traction in the charts after Cobain's suicide seven months later.
In Utero is a more pure version of Cobain's vision for the band's music and so for that reason alone it is essential in any collection.
And that has just been made easier because it is one of the stack of albums at JB Hi-Fi stores (here) going out in a two-for-$15 deal.

And the other Nirvana albums in this Bargain Buy offering are the excellent MTV Unplugged and thrilling Live at Reading.
Quarter of a century on, Nirvana still pack a gut punch.
And sometimes a jab to the heart.