Graham Reid | | 1 min read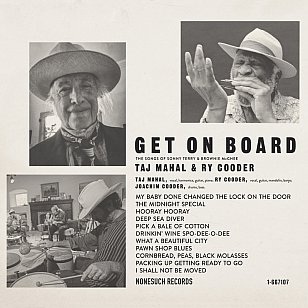 Ry Cooder and Taj Mahal first played together in the Sixties folk and blues band Rising Sons in California, recorded one album (which went unreleased until 1990) and then each went their separate and highly successful ways.
Harmonica player/singer Sonny Terry and singer/guitarist Brownie McGhee's relationship began in the late Fifties and last for more than 25 years.
Cooder and Mahal were in their late teens when they heard Terry and McGhee's 10'' album Get on Board and here across 11 songs (with Cooder's son Joachim on drum and bass) they come together late in life to pay tribute to Terry and McGhee on an album which has a loose and freewheeling ambience and was knocked off in three days with Cooder adding some subsequent overdubs.
Only three songs here were on the Terry/McGhee album of the same name: the familiar Midnight Special, Pick A Bale of Cotton and I Shall Not Be Moved.
The rest come from various parts of the original duo's career, among them a jovially dark Drinkin' Wine Spo-Dee-O-Dee, the downhome Cornbread, Peas, Black Molasses and funky Packing Up Getting Ready to Go.
Among the best here are Mahal's bringing a kind of folksy sadness to his singing and harmonica playing on Oh What a Beautiful City and Cooder's slide playing on Pawn Shop Blues.
Cooder's playing is superb everywhere however so picking winners in this selection is redundant.
That said – fine, reverential and often enjoyable as this is -- it is perhaps only of interest to hardcore Cooder fans and those who naturally gravitate to folk-blues.
.
You can hear and buy this album on bandcamp here
.