Graham Reid | | 1 min read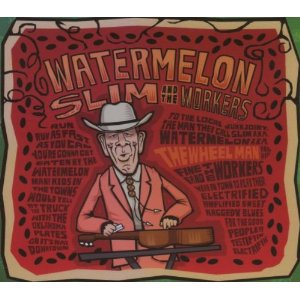 To be honest I didn't quite "get" the last, self-titled, album by this rough'n'ready bluesman, but I was clearly in the minority: the album won the Mojo magazine and the Independent Music Awards for blues album of the year, got six nominations at the Blues Music Awards and so on.
And this album -- which I have to say I "got" immediately -- comes with guest Magic Slim and a quote from the great producer Jerry Wexler who says, "Watermelon Slim incarnates the deepest and truest roots of American music. Combine Jimmy Rodgers, the whole Carter family and Bob Wills with Blind Lemon, Sonny Boy Williamson and Wilson Pickett and there you have Slim, a one-of-a-kind pickin' and singin' Okie dynamo".
Well, you can't add much to that I guess, only to say it all seems true and that Slim also possesses one of those untutored, gruff and undeniably authentic voices, plays great Dobro, has an explosive band, and here tears apart classics such as Got Love If You Want It, cuts right back for a raw treatment of Furry Lewis' Judge Harsh Judge, and fires off some memorable originals.
He sounds as at home in the studio as did the late Hound Dog Taylor (who just treated his sessions as if they were another nightclub workout), and this one just jumps off the disc at you.
Song titles tell the story here: Black Water, Drinking and Driving, Fast Eddie, Sawmill Holler, Truck Driving Mama, Rattlesnake, Peaches . . .
I had the pleasure of interviewing Slim recently who, among many other things, has been a truck driver, a wheel man (driver of the getaway car), soldier in Vietnam, anti-war activist, journalist and so on. He has a double degree (journalism and history) but was declined a teaching position "because I don't have teeth". He is also a member of Mensa.
Quite some man. Quite some album.