Graham Reid | | <1 min read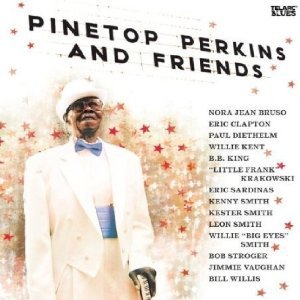 On paper this may look like just another celebrity collision around an old bluesman -- and singer/pianist Pinetop is a very old bluesman. He's 95.
And yes, of course Eric Clapton and BB King are here, but outside of those two (both on excellent form) the blues players who line up for this thoroughly enjoyable outing aren't really big name players.
Of the others guitarist Jimmie Vaughan may be the best known, but the real oil comes with singer Nora Jean Brusco on How Long/Blues Come Back (with Clapton on guitar) and when Pinetop himself is holding court on a gritty Hoochie Coochie Man, the rollicking Barefootin' , the barroom Sweet Home Chicago . . .
It's likely (given the cover credits) that Clapton and others phoned in their contributions but that hardly matters, it is Pinetop Perkins -- who still plays live despite a car he was driving being hit by a train when he was 91 -- who is the star here.
Let's hope we are all this lively at his age.
This may give you encouragement.