Graham Reid | | <1 min read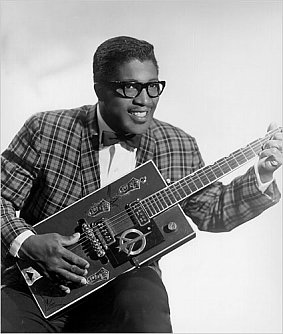 Tributes will come fast for this legend of rock'n'roll and all will -- or at least they should -- note that for the past four decades the man barely sold an album despite his position as a figurehead.
Over a decade ago he released the terrific A Man Amongst Men which featured guests Keith and Ronnie from the Stones, Richie Sambora, the Shirelles, Chuck Berry pianist Johnnie Johnson, Jimmie Vaughan, Johnny "Guitar" Watson and others. That was the measure of the man, that these people would happily line up to play alongside someone who at the time had become a footnote in rock and was playing the oldies circuit.
Bo never felt himself an oldie and his albums always bristled with energy and madness, raw firepower, and his trademark blues-rock playing.
The man created himself, his box-shaped guitar, wrote about himself long before the Monkees (Hey Bo Diddley) and his signature riff was the famous "Bo Diddley beat" that became a cornerstone of early rock'n'roll.
His "beat" was covered by Buddy Holly, the Stones and the Animals, and borrowed from by the Pretty Things, Downliners Sect and many many more including Elvis, Springsteen, Bowie . . .
Larger than life, Bo Diddley is now gone.