Graham Reid | | 3 min read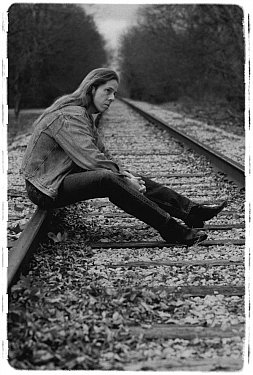 Singer-guitarist Danny Click, from Austin, the capital of live music in America, laughs about a description he heard of his playing style: "I'm not really country and I'm not really total blues - and I'm definitely not hardcore thrash rock'n'roll. In Austin all the minor sub-categories are mixed up but I don't fit any of them sometimes.
"Someone once described my sound as Jimi Hendrix beating up Buck Owens but I'm not so sure about that. But I guess it's kinda appropriate."
Click - who played in Jimmy LaFave's band for many years but now mostly helms his own outfit - has lived with lots of references: Tom Petty crossed with John Mellencamp, the Allman Brothers meets Stevie Ray Vaughan, Lynyrd Skynyrd ...
You get the picture. Click rocks - but when he appears on jazz and blues bills he has some trepidation. "It's like, uh-ho, I might be the Antichrist again."
Click has been a journeyman musician all his life and seen everything from small bars for his solo sets to huge festivals with his rocking band. He still plays about 100 nights a year - the east and west coasts of the States, the European festival circuit - but admits that after a lifetime of playing he has started to be selective about where he appears.
"When I played in other people's bands some of the gigs have been kinda scary, and I have a studio at home so I'd just as rather be at home recording a song idea or watching The Andy Griffith Show or something.
"I don't want to tour all the time although I know some people would kill to have some of those gigs. But I've been on the chitlin circuit for years, so I've done it - and now it's done."
Oddly enough for this guy who prefers to stay in Austin, he rarely plays there these days. His band and his girlfriend are based in San Francisco so he's mostly out that way or on the road elsewhere.
"Austin is a great place. I love living here and I've been here since '89. It's cool but it's changed since I first came here. It's not as musically friendly as it used to be.
"There's a lot of music here, don't get me wrong, but clubs are going out left and right. Legendary clubs have become cover band places or discos, and the live music scene is suffering in that area.
"There are more clubs popping up but the ones that are really cool, that everybody had heard of forever, are gone now. The Steamboat's gone and they tore Liberty Lunch down several years ago. They took it down to make room for a computer software company or something, and the company went out of business and they didn't finish the building for years. It's crazy.
"But there's a lot of good folks here and it's a great place to be from."
Austin has long had a reputation for hard rocking bands. Joe Ely, who moved there from Lubbock, Buddy Holly's hometown, toured with the Clash; Antone's house bands were the Fabulous Thunderbirds and the Cobras (featuring Stevie Ray Vaughan); and the annual South by South West music showcase puts punk bands alongside outlaw country acts.
There is a rock'n'roll spirit in the air of Austin and that's just fine with Click.
"I've always been a rock'n'roll guy and I've played it for years and years. I love the blues and play that, but I love good old-fashioned rock'n'roll. Not many people do that any more, it's getting kinda rare these days. That's unfortunate in itself because there are a lot of artists out there playing rock'n'roll music and not getting any airplay.
"A lot of people try to jump on whatever bandwagon that's happening and that's okay. If they want to do hip-hop or pop-rock or death metal or whatever is popular that's fine, there's all kinds of validations. But it's not something I want to think about. I just do what I do.
"My music's evolved for sure. I started out playing in AC/DC cover bands and I still love AC/DC, they are my favourite band in the whole world. But I also love Emmylou Harris and respect all those [singer-songwriter] guys."
There's a bit of that in him too - he talks of his next album being probably just him playing acoustic guitar, and he plays lap steel guitar - but at heart he just loves to play rock'n'roll. His albums - notably his most recent, Elvis the Dog - find him scouring the fretboard, tossing in a Beatles and a JJ Cale cover, and ripping out songs with titles such as Killing Fields, Dust on the Bible, and Love at War.
One place he yearns to play is Japan. "I want to go to there and play the Budokan like Cheap Trick. I loved that album when I was a kid. It rocked."
Busy enough to turn down gigs he doesn't like - "I've had residences in clubs but I've got used to getting paid and I just don't wanna not get paid any more" - he considers he's got a pretty good job.
"You know, it's real simple. I like playing guitar and singing songs and I guess it's what I'm supposed to do on this earth. Any time you can get paid for something you enjoy, you know you're a lucky man."
Like this? Then check out the interviews, reviews and overviews at Blues in Elsewhere.