Graham Reid | | 1 min read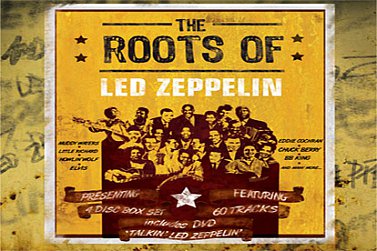 To some small but much lesser degree we've been down this path before with the DVD Down the Tracks: The Roots of Led Zeppelin recently posted here.
But as noted, that was interesting enough but hardly got to the heart of the complexity of music Led Zeppelin drew on: rural blues, Anglo-folk, rock'n'roll, Chicago blues . . .
This three-CD/DVD set is much better and offers a wealth of music which is exceptional in its own right. Divided into When the Levee Breaks (rural acoustic blues), How Many More Years (urban electric blues, early rock and skiffle) and Train Kept A Rollin (gutsy Fifties rock'n'roll) this one not only scoops up the obvious (Robert Johnson, Leadbelly, John Lee Hooker, Muddy Waters, Lonnie Donegan, Elvis and so on) but brings back those artists who rarely appear on such compilations: Sleepy John Estes, Oscar Woods, Bukka White, Hank Snow, Elmore James, Gene Vincent, Fats Domino . . .
To a greater or lesser extent these artists (and in some instances such as Leadbelly's Gallis Pole, the songs themselves) were a direct and discernible influence on early Led Zeppelin --that is particularly Robert Plant and Jimmy Page -- in the years before the band actually formed.
It was songs such as these which they would play in rehearsals or share a love for, and which seeped into the their first two albums.
That said, you hardly have to be a Led Zeppelin fan to appreciate this collection (in fact I suspect new Led Zepp fans mostly couldn't care less) because here is a trove of great music, whether it be those raw rural blues songs like Nobody's Faulty But Mine (Blind Willie Johnson), Lone Wolf Blues (Oscar Woods, which Hendrix borrowed for Red House) and Sonny Boy Williamson's Good Morning Little Schoolgirl (a Yardbirds favourite) or the multiple whammy of Muddy Waters, The Hook, Elmore James and Bo Diddley on the second disc.
The third disc stalks some powerful rock'n'roll too: Eddie Cochran, Otis Rush, Dale Hawkins, Howlin' Wolf, Buddy Holly, Chuck Berry . . .
Then there is the Talkin' Led Zeppelin DVD of the usual suspects of critics, reviewers and talking heads (the very familiar Charles Shaar Murray and Nigel Williamson telling the Led Zep story with digressions into Elvis and skiffle, Sid Griffin and others) to add extra texture.
What is noticeable by its absence on the discs here is the Anglo-folk of people like The Incredible String Band, Bert Jansch and others which was also an influence. In fact you could argue that as much as Led Zeppelin were grounded in the blues, they also had an ear on acoustic folk as evidenced on all their albums.
That aside, this is an exceptional collection of music (with a very informative booklet also) and whether you want to sheet it back to Led Zeppelin or not really doesn't matter. These 60 songs provide hours of fascinating music in their own right.
Cornerstone listening any way you cut it.