Graham Reid | | 1 min read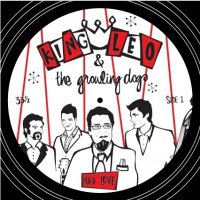 Ahh yes, the "Dunedin sound", huh? Well here's something out of the south which will further confound preconceptions: King Leo LaDell and his tight band haul into tough urban blues territory with the confidence of people who have been schooled on the South Side of Chicago and were nourished on Muddy Waters, Howlin' Wolf and all the other electric and electrifying blues giants.
They pull in some New Orleans/barrelhouse piano, drive it home with hard harmonica, and write inventive original material which wouldn't shame any contemporary blues album coming out of the USA.
The tough Hands of A Maker, the wiry I Can Taste the Love and the harp-honkin' Down the Nui instrumental here are all outstanding and must brush up something menacing live.
Multi-instrumentalist, America-born King Leo -- who has played in bands in the US and opened for the likes of Danny Gatton -- also throws in a little Havah Nagilah into his solo on Gary's Not Here, sort of Jewish surf blues like Boom Pam. There's also the amusing BB King-influenced Honesty ("you're my friend and I love you, but why must you wear that stupid hat").
But he's serious too and weighs in on the smacking debate with Don't Touch That Child, although the more amusing flip comes on Sean Connery ("don't lay a hand on her Sean Connery, if you do you're no kind of man at all, if you mistreat your Moneypenny, I hope they'll give you five to twenty")
This apparently came out back in January but has only just landed on the Elsewhere desk (nice timing gentlemen, it was up against dozens of NZ Music Month albums) and whatever touring they did to promote it will have long passed. But these two discs -- one of originals the other of covers of their heroes like Muddy, Sonny Boy Williamson, BB King, Little Walter and the like -- are gutsy, edgy and have dirt under their nails.
These songs also sound like they were done live in one take by this tight four-piece. Yes, that kind of urgency and immediacy. Recommended.