Graham Reid | | 1 min read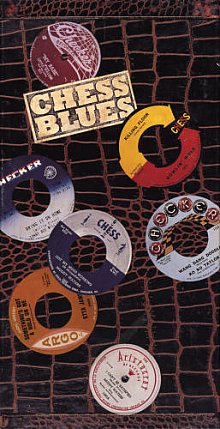 Record companies are usually at their best when close to the street, turnlng up talent rather than just distributing it.
The Chess label was so close to the street it felt the sweat. Polish immigrant brothers Leonard and Phil Chess owned clubs around Chicago and from the late 40s started recording some of the most formative R & B and rock 'n' roll (Chuck's Johnny B. Goode. Bo's Bo Diddley and the still great Etta James).
And they got great blues, naturally.
Protracted litigation over ownership of the catalogue was resolved in the early Nineties and, as if to celebrate, MCA boxed up on four discs (with customary lavish booklet of relevant information, 19 previously unreleased tracks, etc) the seminal first 21 years of Chicago blues as Chess Blues.
Tetchy scholars will note some curious omissions: no Eisenhower Blues by J. B. Lenoir (covered by Elvis Costello on King of America) or Little Milton's Stormy Monday. There are five great tracks by the phenomenal Howlin' Wolf (including Smokestack Lightning and Killing Floor) but no Back Door Man. Shame.
And presumably because Buddy Guy (two tracks only here) and Elmore James (only an altemate take of Sun Is Shining) had received their own boxes (Guy's Complete Chess Sessions and James' Capricorn label King of the Slide Guitar collection) they have been passed over.
But any collection that offers 101 tracks from artists such as Memphis Slim, Johnny Shines (the riveting Joliet Blues), Otis Rush and the omnipresent producer/bassist Willie Dixon has got to win points on all fronts. This music was The Source.

Look at what's here: Etta James (l'd Rather Go Blind), Koko Taylor (Wang Dang Doodle), a stack of Muddy Waters (Mojo Working, Hoochie Coochie Man and I Can't Be Satisfied) and Lowell Fulson (Reconsider Baby). Wonderful.
Van Halen covered John Brim's raunchy Ice Cream Man, the Stones and Clapton were bred on this stuff and Rod Stewart lifted his "spread your wings" image from Robert Nighthawk's Sweet Black Angel.
But that's what white boys always do; there's a world of difference however between Robert Plant ripping off Muddy Waters' All Night Long (here in a primal alternate take) and the raw purity of these sounds.
Somewhere in this box you'll find every honest, scary human emotion.
Like this? Then check out the interviews, reviews and overviews at Blues in Elsewhere.