Graham Reid | | 1 min read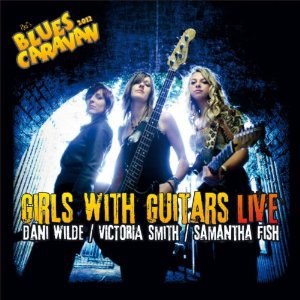 As mentioned about a previous album of this concept of gals with guitars, there's nothing like giving 'em what it says on the box. And yep, these three are blues-rock women with guitars and that Girls With Guitars label is a flexible membership (currently Cassie Taylor out, Victoria Smith in).
This CD/DVD set is blues-based but this time the version of the Stones' Bitch which opens the CD at this gig in Germany sounds more like the Runaways, they drop Led Zeppelin's Kashmir riff into Fish's 10 minute version of Money to Burn, get down'n'dirty with Down in the Swamp . . .
On the extended DVD they open with Lenny Kravitz' Hendrix-influenced Are You Gonna Go My Way.
So the GwG set is populist in that it aims for a live audience with serious blues in its heart but not averse to some rock influences. That said, much of this on DVD comes off rather tame in its presentation (hard to really strut in high heel unless you are Tina Turner?) and the German club crowd a bit hard to get going. But a lumpy drum solo early up by the sole male Denis Palatin followed by a bass solo from Smith with a bit of Another One Bites the Dust was never going to be a winner . . . although you cannot doubt their vocal and guitar chops, least of all Samantha Fish.
So here is the good news.
Another Girls with Guitars line-up -- this time Fish, bassist Danielle Schnebelen (who has played with Koko Taylor, Kenny Wayne Shepherd and the Tedeschi-Trucks Band) and Britain's excellent Joanne Shaw Taylor -- come to New Zealand for the Bikes, Blues and Hot Car festival in New Plymouth on March 1, 2013 . . . and that would definitely be their audience.