Graham Reid | | 1 min read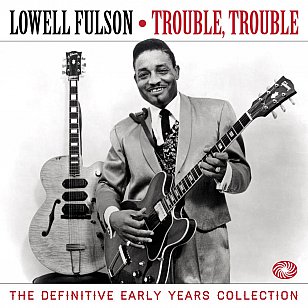 Sometimes the singer-guitarist Lowell Fulson (1921-99) recorded as Lowell Fulsom and even Lowell Fullsom, but he was born Fulson although the liner notes to this three CD set suggest where the variations came from.
Fulson himself would adopt the various spellings for his own reasons (think: the taxman), but his grandfather was actually Henry Fulsom who was black freeman living with the Choctaw Indians.
Born in Atoka south of Tulsa, Fulson was a working musician by the time he was 18 and early on played Western Swing. But as he toured with various bands he picked up blues and after military service in Guam he returned to California and became associated with the West Coast sound of the blues.
He enjoyed a number of hits (notably Come Back Baby and later Reconsider Baby for Chess who let him record in Dallas) and as his group got bigger at one time it had Ray Charles (who stole his band) and Stanley Turrentine in its ranks. Which is interesting because this collection -- 75 songs arranged chronologically from'46-62 -- shows just how diverse Fulson could be.
On the first disc which covers the Forties he sounds more like a rural blues singer from the South with an electric guitar, not as loud or as edgy as the Chicago players but moaning and pinging off precise lines with a small combo based around piano and his guitar.
As the years roll on there are elements of swing and jazz, horn sections and his interpretations of familiar material like Ain't Nobody's Business, Everyday I Have the Blues and Rocking After Midnight.
That kind of diversity (and his dextrous vocals as much as his guitar work) makes for interesting listening, although even blues aficionados would agree that 75 songs -- more than a few starting with "Well . . ." -- is a lot of Lowell Fulson.