Graham Reid | | 3 min read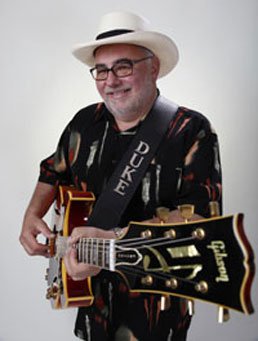 When you think of Rhode Island, you don't immediately think of it as a crucible of the blues. It's the state north of New York so small you could carpet it, the home of the red chicken - Rhode Island Red is the state bird, correct? - and JFK and Jackie were married there.
But as a home of the blues? Maybe not.
Unless you remember that Newport, which some America's Cup contenders call home, has long been the host town for legendary jazz and blues festivals.
And it was at these the young Duke Robillard - now a 54-year-old multiple award-winner for his blues playing - fed his teenage soul.
He would have picked up a smattering of the blues from his older brother's record collection but watching the artists live at the summer festivals confirmed his love for the music.
"Going to the Newport Folk Festival and seeing the original artists, such as Son House, Mississippi John Hurt and Muddy Waters, really got me into it. I can't say what it was that got me, just the sound of it.
"There was blues on the flipside of Chuck Berry records - like Wee Wee Hours and Deep Feeling - which were the first blues I really heard, but I didn't know it was blues. I'd just flipped the record over from the hit and was simply drawn to it.
"Back then there was also a lot of r'n'b and stuff on the radio which was blues, such as Fats Domino and Slim Harpo, whose Scratch My Back was a hit on pop radio. So there was always something in there which was close to the blues.
"All the basic American music - the roots music like country, jazz and r'n'b and rock'n'roll - have all just sounded to me a part of the blues, which is what they are. They've grown out of the blues."
As a pre-teen he would secretly practise licks on his brother's guitar and after graduating from high school founded Roomful of Blues in 1967, a working band that still survives despite his departure in 1979.
He left to form the Pleasure Kings and work as a studio sideman and backing touring artists. It was the start of a long association with some of the greatest blues players of our time.
He has recorded or played with Albert King, Taj Mahal, Charlie Musselwhite, Joe Louis Walker, Ruth Brown, Jay McShann, Jimmy Witherspoon and dozens of others. From enthusiastic acolyte he became one of their peers.
"There are plenty of people I'd still like to work with but I've been lucky enough to play with most of my idols over the years. I'd like to have BB King do a few tracks on a record with me, and there are others I'd like to work with. But for the most part I've played with a lot of my heroes."
That's because Robillard has not confined himself strictly to the blues so he brings a wealth of other ideas to a project. Among others he has recorded with soul king Solomon Burke, done two albums with jazz guitarist Herb Ellis, and appeared on Bob Dylan's Time Out of Mind album.
Despite playing around 150 dates a year - he is back in Auckland for his third visit - and doing production work, he still managed to squeeze the Dylan session into his schedule.
"That was a phone call and they wanted me to come that day. I went the following day to do it so that was an on-the-spot session. We did a lot of different versions of songs, he would change the arrangement or try a different kind of feel and we'd just have to follow him. It wasn't one take, but it was all live," he laughs.
With a broad musical vocabulary - "I'm pretty well versed in most styles of the blues," he says modestly - he also found it easy to sit in alongside Ellis.
"I instigated that and spoke with his manager who, at that time, was a fan of mine. When we got together we instantly realised we'd be able to play really well together.
"I've never really run into a situation where it's impossible, but some are easier than others and Herb and I just clicked. Our styles blended in and we could play together in a complementary way with no rehearsal."
Robillard has also been a sometime-member of the Fabulous Thunderbirds after he replaced Jimmy Vaughan, brother of the late Stevie Ray, and his playing embraces jump-swing, Count Basie-style bands and downhome acoustic playing.
He plays and records constantly. Even when back home in Rhode Island he is "usually producing an album for someone or working on my own projects".
"Every few years I might have a holiday for a week. The Caribbean cruise I did with the Thunderbirds, Charlie Musselwhite and those guys was a lot of fun. It was kind of a vacation. But I like my job so it's not a problem to keep working.
"There's always something to learn, I'm pretty much doing it constantly. There might be a period where I go through a plateau where I don't really learn much for a while, then I'll hear something new and want to figure it out - and the desire to learn more starts over again. I'm pretty much inspired every time I pick up my instrument.
"Blues has always got its ups and downs, and it's sometimes in or out of popularity. I don't really think about that too much. It's what I do and who I am, so whether it's a good period or lean period I just keep on going. I don't really know how it happened I came to be what they now call a senior statesman. I think you just keep breathing."